Chilli Chicken Noodle Recipe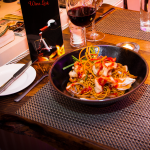 Chilli Chicken Noodle Recipe
2015-07-17 10:20:31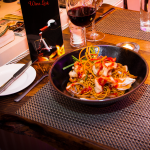 Ingredients
200gm of bean sprouts
2 boneless, skinless chicken breasts
500gm dry Egg noodles
2 medium celery
100gm fresh mushrooms
1 red bell pepper
1/2 red onion
1 green onion (scallion, spring onion)
Vegetable oil for frying and stir-frying, as needed
1/4 cup toasted sesame seeds
Chef Sham's One for All Sauce
Instructions
Cut the chicken into thin strips, add Chef Sham's One for All Sauce and marinate for 20 to 25 minutes.
Soften the noodles by placing them in boiling salted water. After 5 minutes plunge the noodles into cold water to stop the cooking process and drain thoroughly.
Wash all the vegetables as needed. Cut the celery and the bok choy into 1/2-inch pieces on the diagonal. If substituting broccoli for bok choy, peel the stalks until no more strings come out, and slice thinly on the diagonal. Wipe the mushrooms clean with a damp cloth and slice. Cut the red bell pepper in half, remove the seeds and cut into chunks. Peel and chop the onion. Dice the spring onion.
Heat a wok or frying pan over medium-high to high heat. Add 2 tablespoons of oil. Heat the oil and add in the onion and the meat. Let the meat brown briefly, then stir-fry until the redness is gone and the meat is nearly cooked through.
Add in celery, peppers, mushroom and bok choy.
Add equal amounts of Chef Sham's One for All Sauce and water. Bring to boil, add in noodles and green onions and mix together.
Garnish the Chilli Chicken Noodle with the toasted sesame seeds. Serve hot and enjoy!
Chef Sham Sauces http://chefshamsauces.com/