Crispy Sweet Chilli Chicken Recipe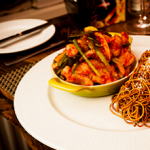 Crispy Sweet Chilli Chicken
2015-07-17 10:26:52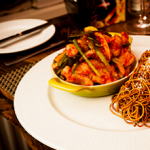 A super tasty recipe for those with a taste for sweet chilli - can be made extra hot by adding more chillis!
Ingredients
2 large chicken breasts
1 tbsp. Chef Sham's Sweet Chilli Dipping Sauce
2 tsp. Soy Sauce
80ml water
1 egg
Juice of 1 large lemon
2 tsp. cornflour
2 tbsp. honey
Salt and black pepper
Rapeseed / Sunflower oil
A thumb sized piece of ginger
A handful of spring onions
1 large red chilli (or more for extra heat)
Instructions
Cut the chicken breast into strips, quite thinly, add some rock salt, black
pepper and eggs then the flour to a bowl - coat the chicken. Set aside.
Finely slice the ginger, cut the chilli into thin strips and remove the seeds.
Get a wok and heat your Rapeseed/ Sunflower oil. You'll want a good
amount to deep fry the chicken.
Meanwhile, juice the lemon into a cup or bowl, add Chef Sham's Sweet Chilli
Dipping Sauce, soy sauce, water and cornflower and stir together. Leave to one
side for now.
Fry the chicken in batches for a few minutes in the hot oil until golden
brown and remove to drain on paper towels. Repeat until all the chicken is
looking good!
Discard all but about a tablespoon of the oil from the wok and gently fry the
ginger and sliced chilli for a minute or so.
Add the honey to the wok and stir while it is bubbling away for another minute.
Then add the lemon juice, dipping sauce, soy sauce, water and cornflower.
Keep stirring and bring to the boil, the sauce will thicken.
Add the chicken to the wok to heat through for a few minutes, toss in the
sauce to coat.
Serve with rice or noodles.
Chef Sham Sauces http://chefshamsauces.com/